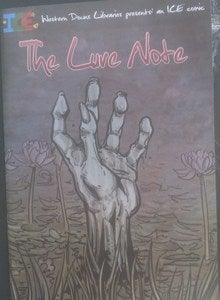 $

5.50
In a massive Six months, over 500 photos, a 75 strong cast and crew, and 60 pages later, the graphic novel production – The Lure Note: journal of an undead outbreak was produced.

Participants from Miles, Tara, Dalby and Chinchilla (read: the middle of nowhere) attended zombie make up classes in make-up, prosthetics and making their own fake blood and pus.
After turning one another into a horde of ghouls they were let loose on their part of the region to emulate the scenes of the planned graphic novel, before the shots being turned over to a graphic artist to produce the final comic.
Ands its bloody good read (pun intended).